Continental 2.1
Description
In the classic Continental game there is a board with 33 positions and 32 tokens. The tokens can be moved jumping over other tokens to an empty position (similar to the Checkers game). Jumps in diagonal and jumps over more that one token are not allowed.
The goal of the game is eliminating all the tokens but one, which must be situated in the central position.
The tokens can be moved by clicking over it and drag into the destination position. If the position is not empty, or if the movement is illegal, the token will remain in the original position.
There are 9 levels avaliable (with different difficulty) plus the classic game. The additional levels has the same goal, leave only one token in the central position.
The game also allows:
Undo the last movement.
Save the current position.
Rotate the board using the arrows on the corners.
Also, there is a World Ranking of the game , which is accessible to everyone that get a record without saving and loading the game. If you wish to see you name as one of the best world players (if you are good enough, of course), press in the World Ranking link and enter the code that the game give you when you get a best time.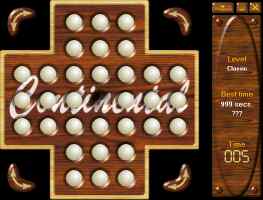 Download
What's new
Version 2.1
Some minor bugs fixed
Updated the WWW page for the Continental World Ranking
Awards