AMP Calendar 2.42
Description
This is a small utility that displays a calendar with the twelve months of a year using the Windows regional settings. Easy access to the calendar through an icon in the taskbar, which shows the current day of the month. Configurable colors and column layout, and it also have the options of configure the first month in the calendar, the first day of the week and printing the calendar.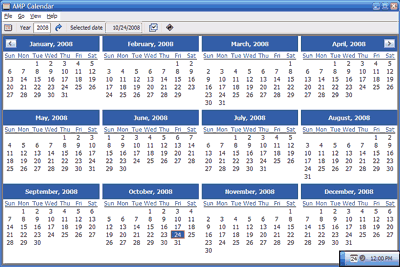 Download
What's new
Version 2.42
Fixed: in December the calendar selected the first day instead of the current day of that month.
Some other minor bugs fixed.
Version 2.41
Version 2.40
New font for the calendar and the taskbar icon numbers.
New option: view only the calendar itself, without borders nor menu bar.
The taskbar icon can be transparent, and can show the numbers in bold. Also, you can choose the font color for transparent icons.
Reorganized some items in the menu bar.
The calendar window can be closed with Escape.
Fixed: changing the first month of the calendar caused an error in some situations.
Fixed: the program failed to restore the main window from the taskbar icon if a secundary monitor was connected or disconnected while the program was active.
Some other minor changes and fixes.
Awards