Screen Saver Control 1.61
Description
This is a small utility that allows deactivate or activate both screen saver and monitor power off with a simple click. It can launch the screen saver or power off the monitor immediately (with option of assigning global hot keys for it), and have the option of preserving screen saver and power off configuration even if it's changed by other programs. All the program commands are accessible from the taskbar icon menu.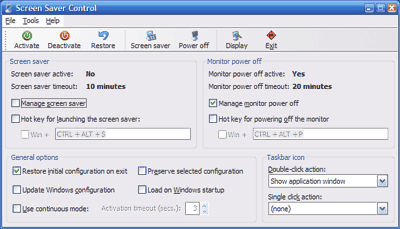 Download
What's new
Version 1.61
Fixed a bug that made the power off options fail in some situations, especially in Windows Vista and Windows 7.
Version 1.60
Added an option for disabling the screen saver/monitor power off for a certain amount of time.
Modified the operation mode of the Preserve configuration option, so it only works when you explicitly use the Activate or Deactivate commands.
Fixed: Launching the screen saver now respects the password option of the Display Properties.
Fixed: the program failed to restore the main window from the taskbar icon if a secundary monitor was connected or disconnected while the program was active.
Some other minor changes and fixes.
Awards